Breau Disposal Ltd. provides full time curb service as well as a variety of temporary services to address the needs of its customers. Our temporary services and containers may be used for the following types of needs: new construction, remodeling, roofing, spring cleaning, estate settlement, land reclamation, "demolition", remodeling and many others. Whenever possible we recommend recycling, or other options for reusable materials, we can advise the general public in proper handling, recycling and disposal of most types of discarded materials.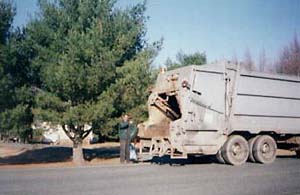 For seniors and/or the physically challenged, we offer a special service for a small fee. We can pick your garbage right at your door.

Some discarded material may be hazardous or require special handling for disposal or recycling options. Please refer to LINK on bottom of page on Prohibited Materials for additional information and disposal options.

For large, bulky items or hard-to-handle items such as large appliances, cabinetry, tree trunks or land cleanup we offer a specialized service with a boom and clam operation that can "pick up almost anything." Ask about this specialized service for your extraordinary disposal needs.